Manifold
HostedMetrics is available to use on Manifold, enabling you to monitor your application code and infrastructure with HostedMetrics alongside your application's other cloud services. You can use Manifold to share HostedMetrics resources with your team, integrate application monitoring with your existing workflow on any platform, and receive one bill for all your cloud services.
Read Manifold's Getting Started guide, or view HostedMetrics InfluxDB on Manifold to get started.
Creating an InfluxDB Resource
To get started, sign up or sign in to your Manifold account. In your main dashboard, click on "Add new resource" to add a resource to your account. Click the "New" button and choose "Add resource" from the dropdown menu.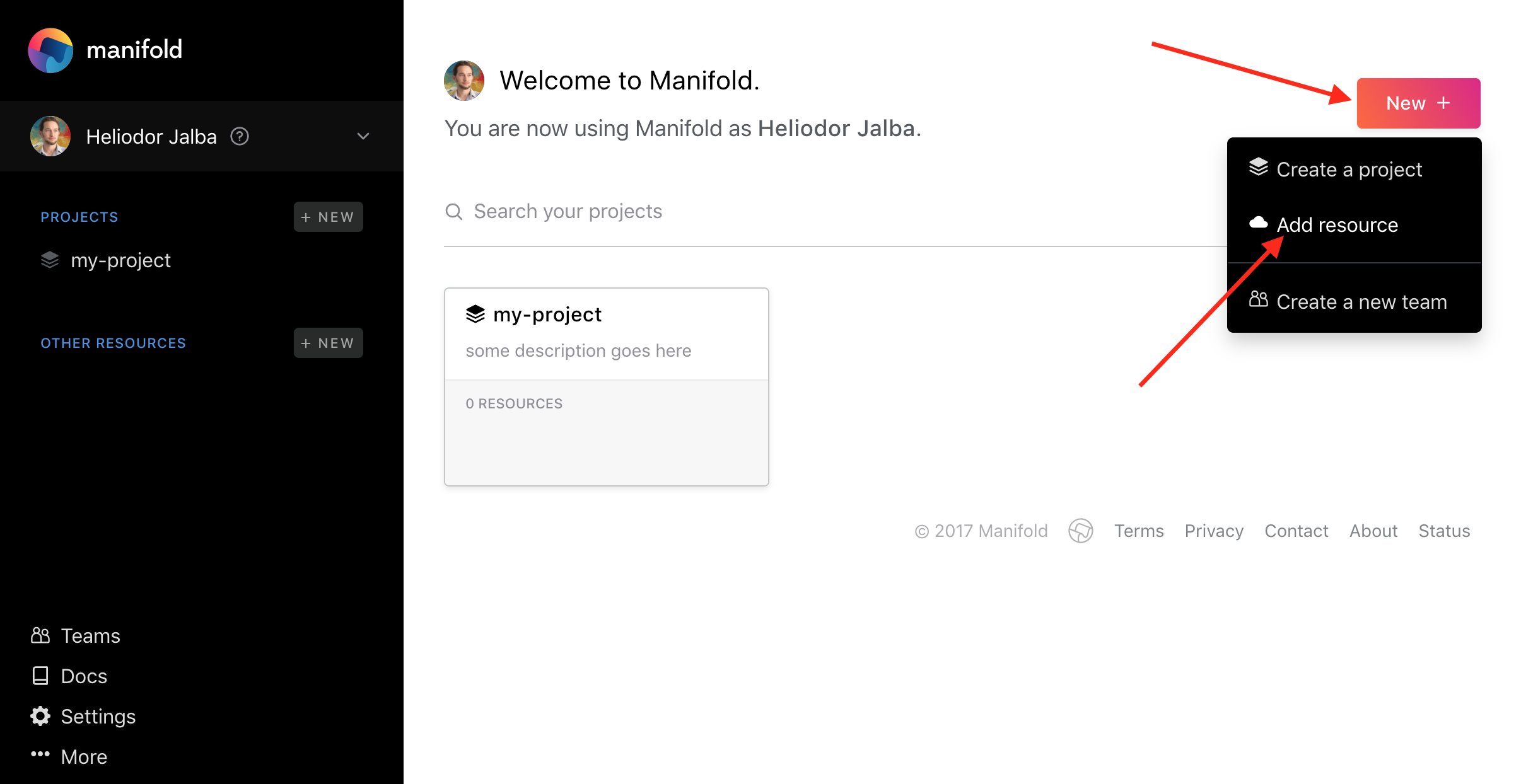 You will be taken to the Manifold Marketplace, where you can see all available services. Click the "Monitoring" option from the sidebar to reduce the list to monitoring services only. You will be able to see "InfluxDB" as one of the options.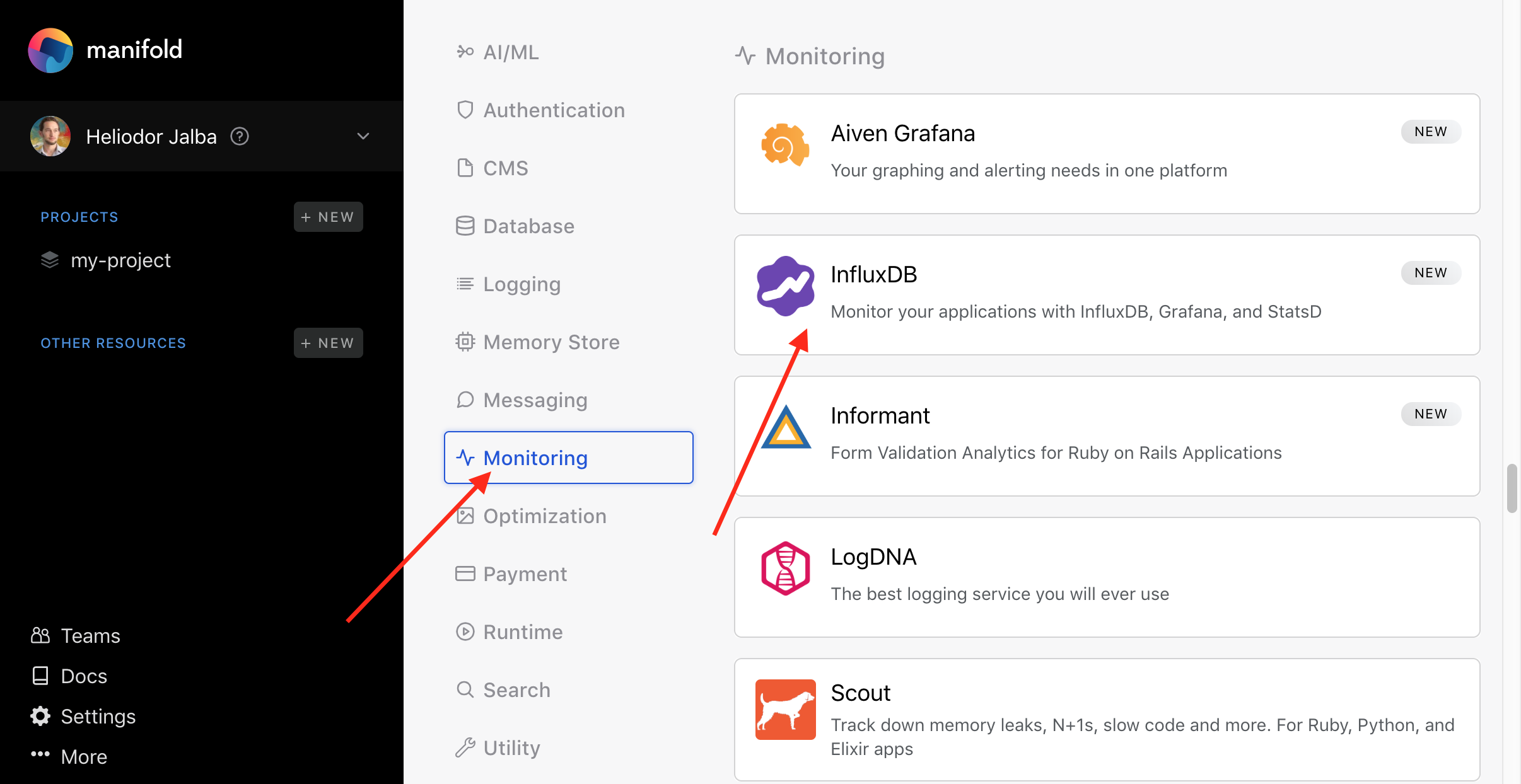 Click on "InfluxDB" and you will proceed to a page on which you can choose a plan and name the resource.
Read the plan details and pick the plan that's right for you. You can also contact us with any questions you may have. Give your resource a name and click "Create InfluxDB Resource".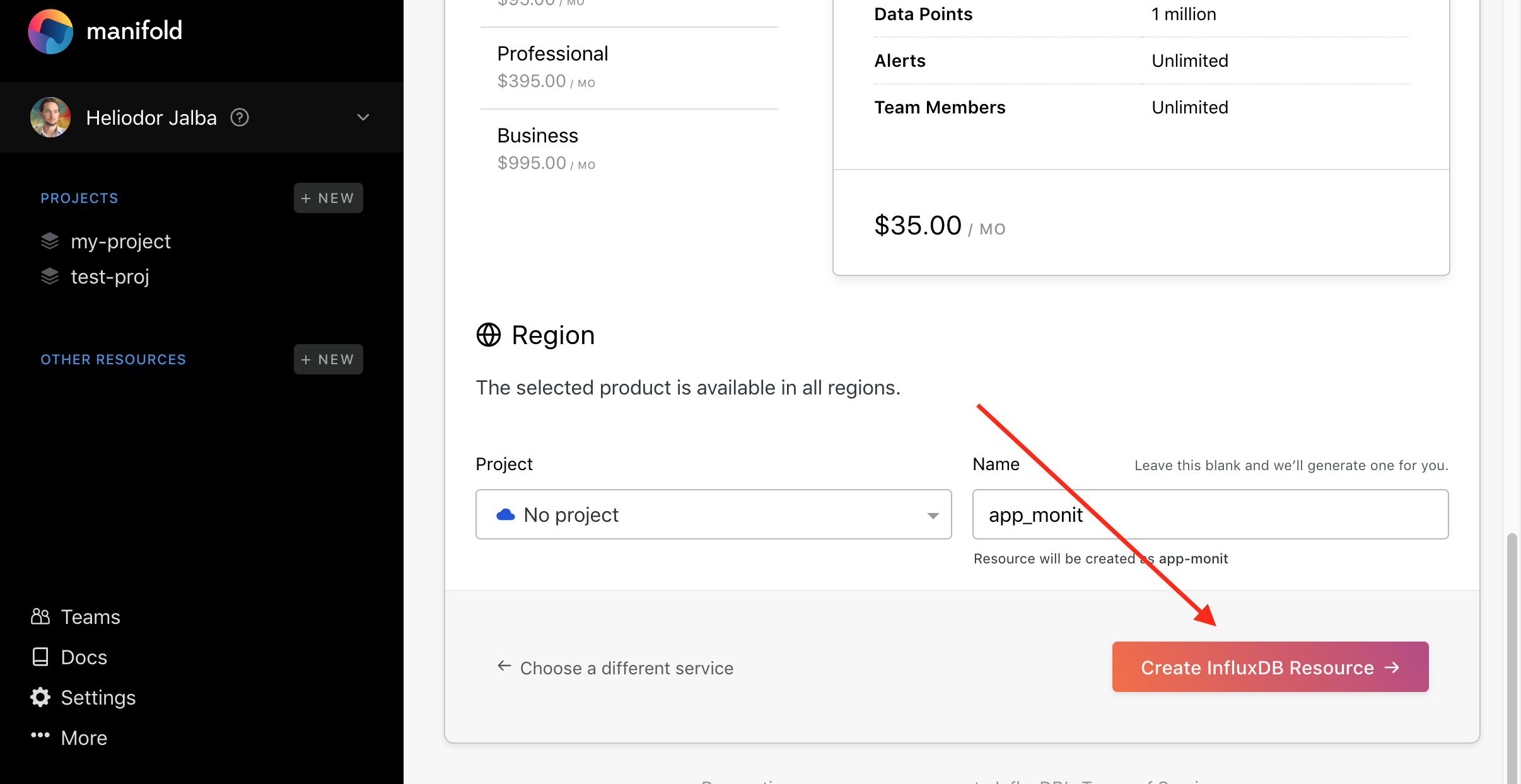 You will briefly see a progress screen as Manifold communicates with HostedMetrics to set up your resource.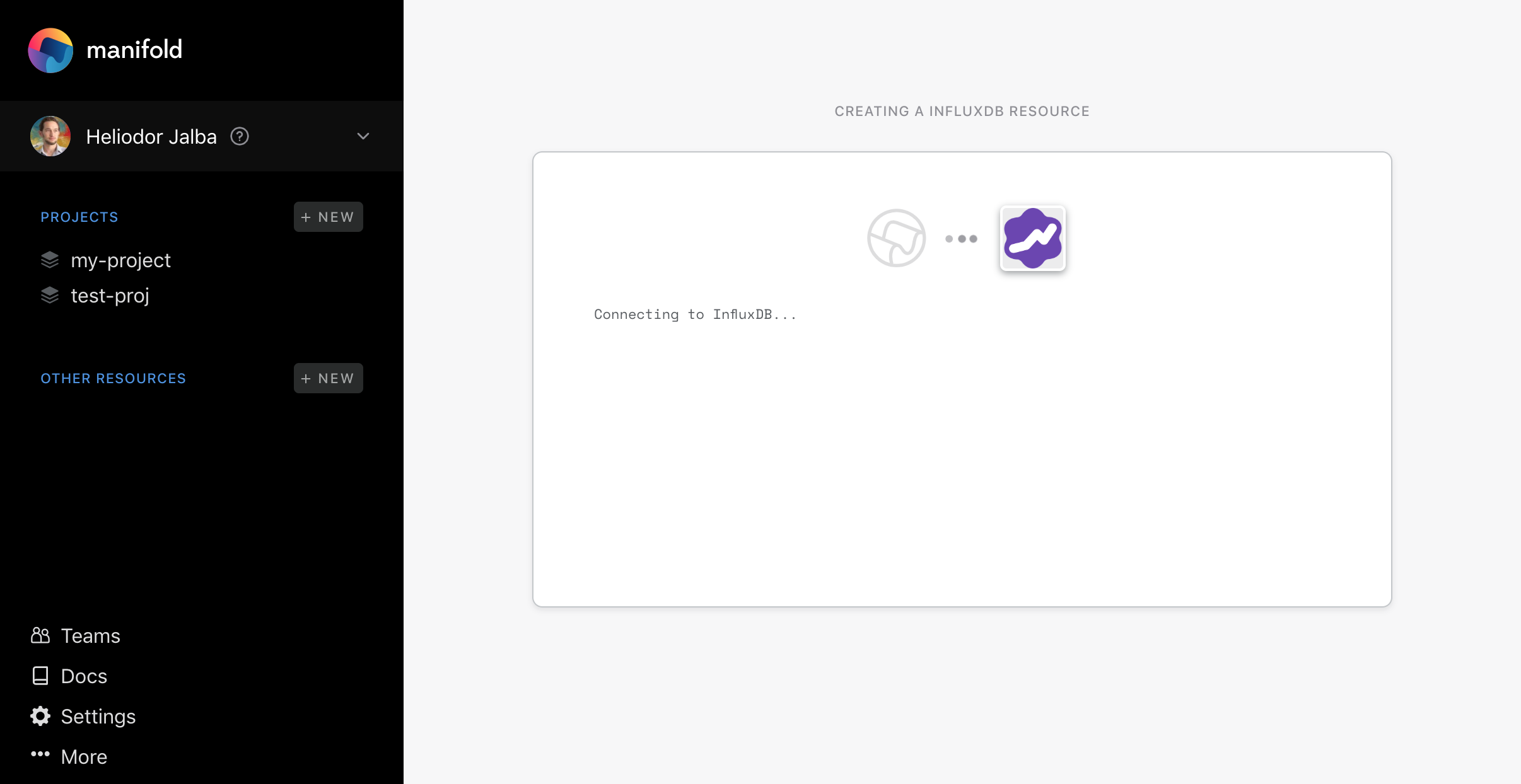 Once your resource is ready, you will see your resource's details screen indicating your chosen plan and credentials, and various action choices.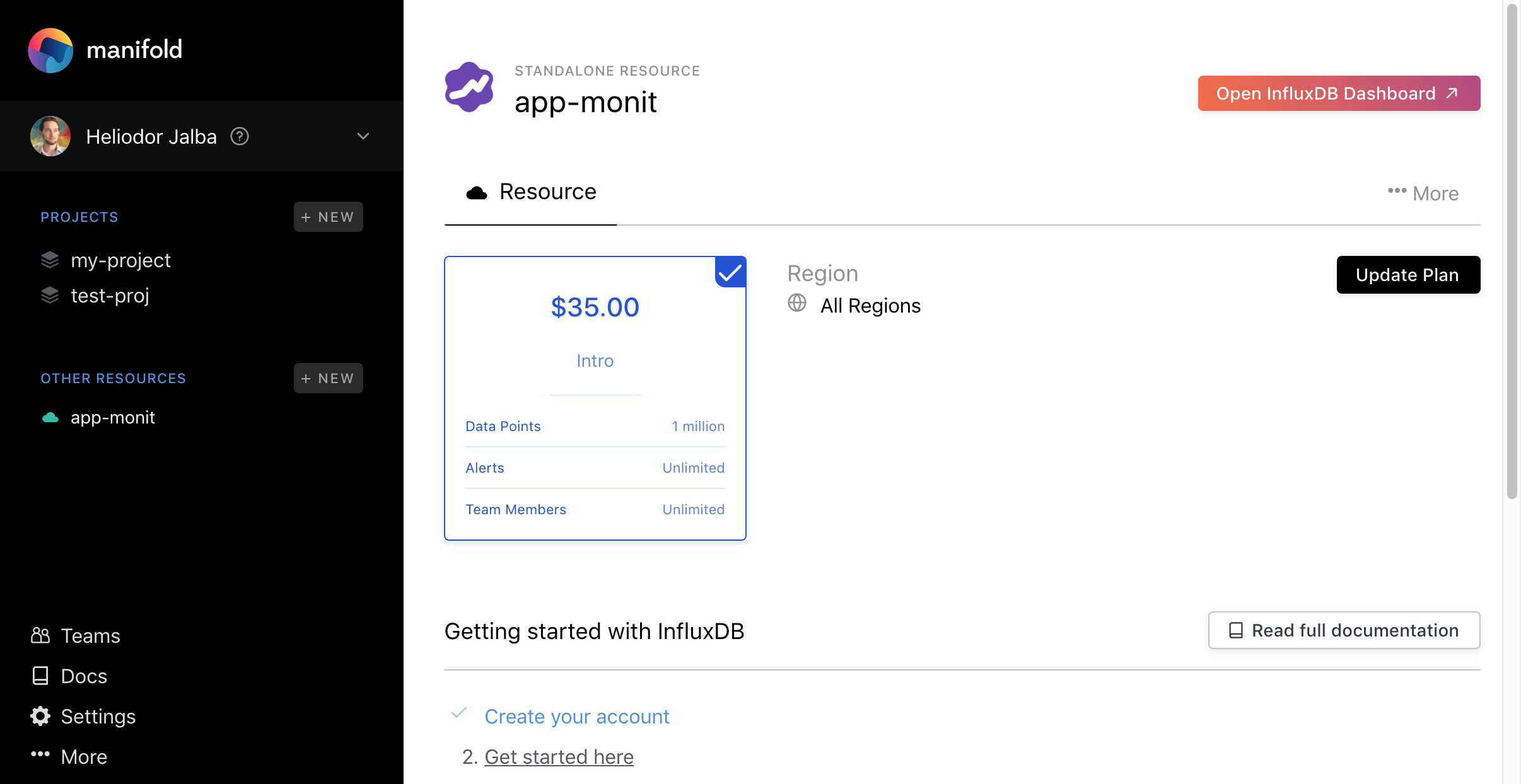 Accessing Your Resource
Scroll down and click "Show credentials" in order to see your credentials.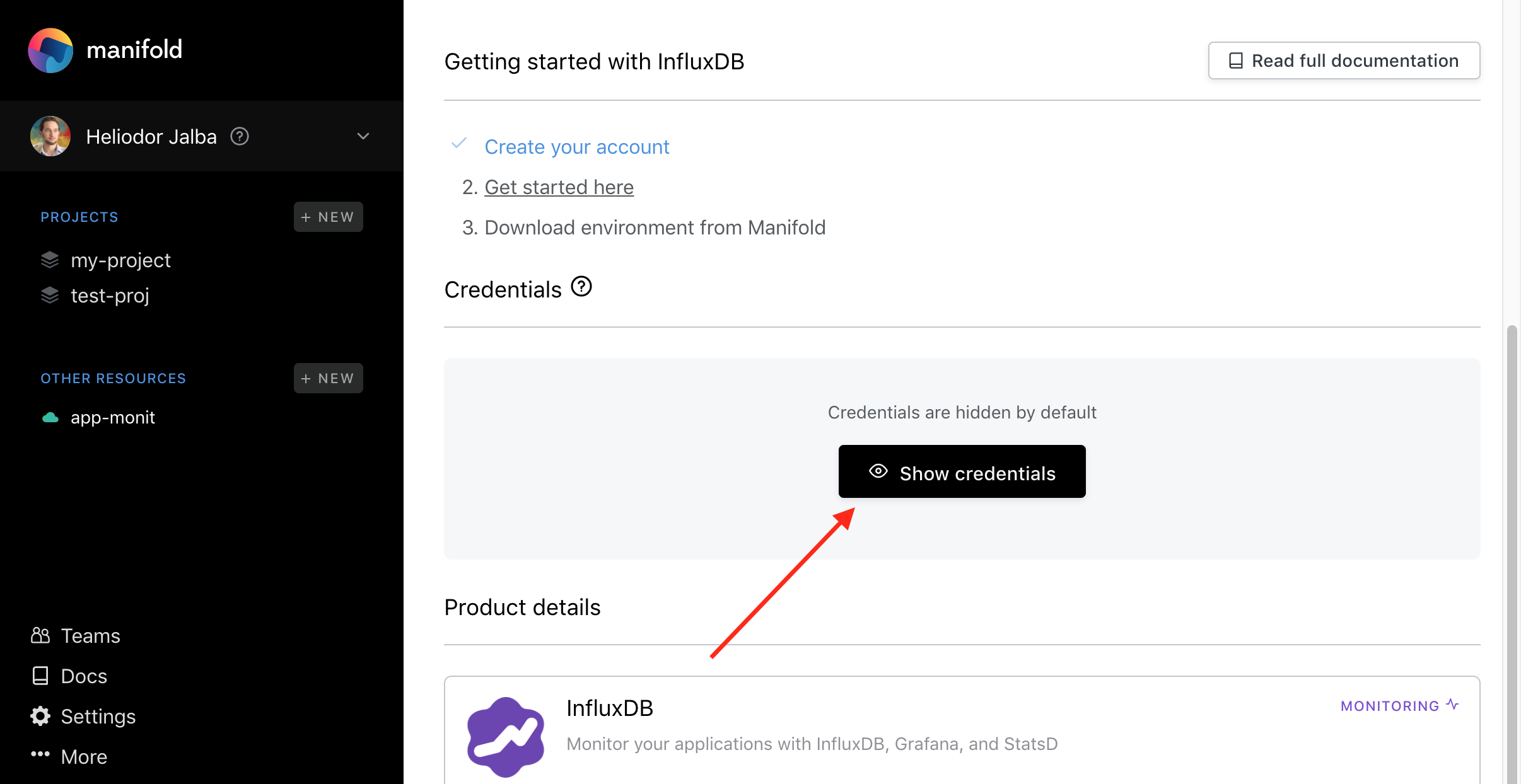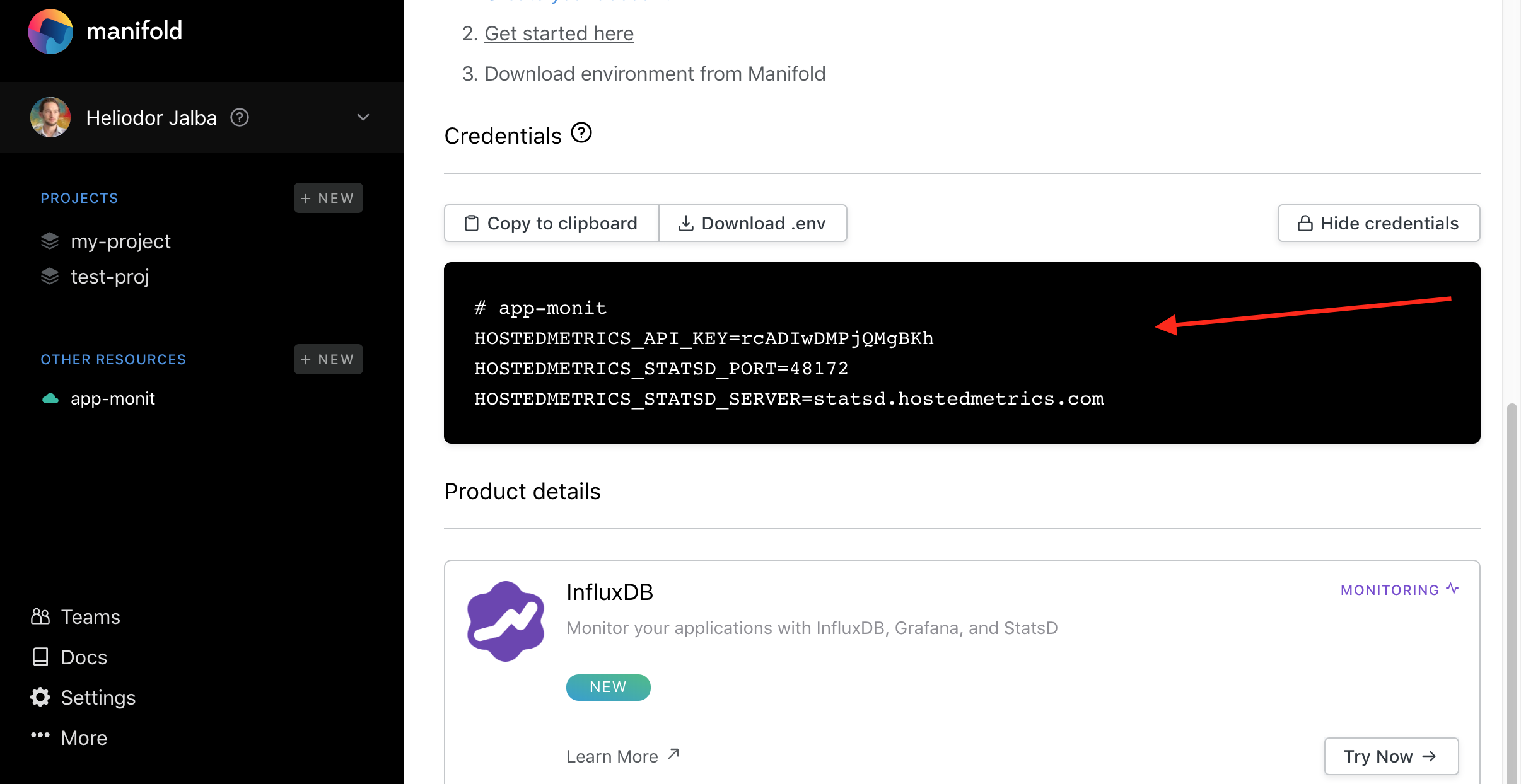 The credentials include your api key and the server and port to which to connect. For more details on connecting and sending your metrics data, see the product concepts documentation).
Make sure to keep your API key secret!
To access your InfluxDB resource, click the "Open InfluxDB Dashboard" button in the top right corner. It will bring you to your user dashboard on the HostedMetrics website.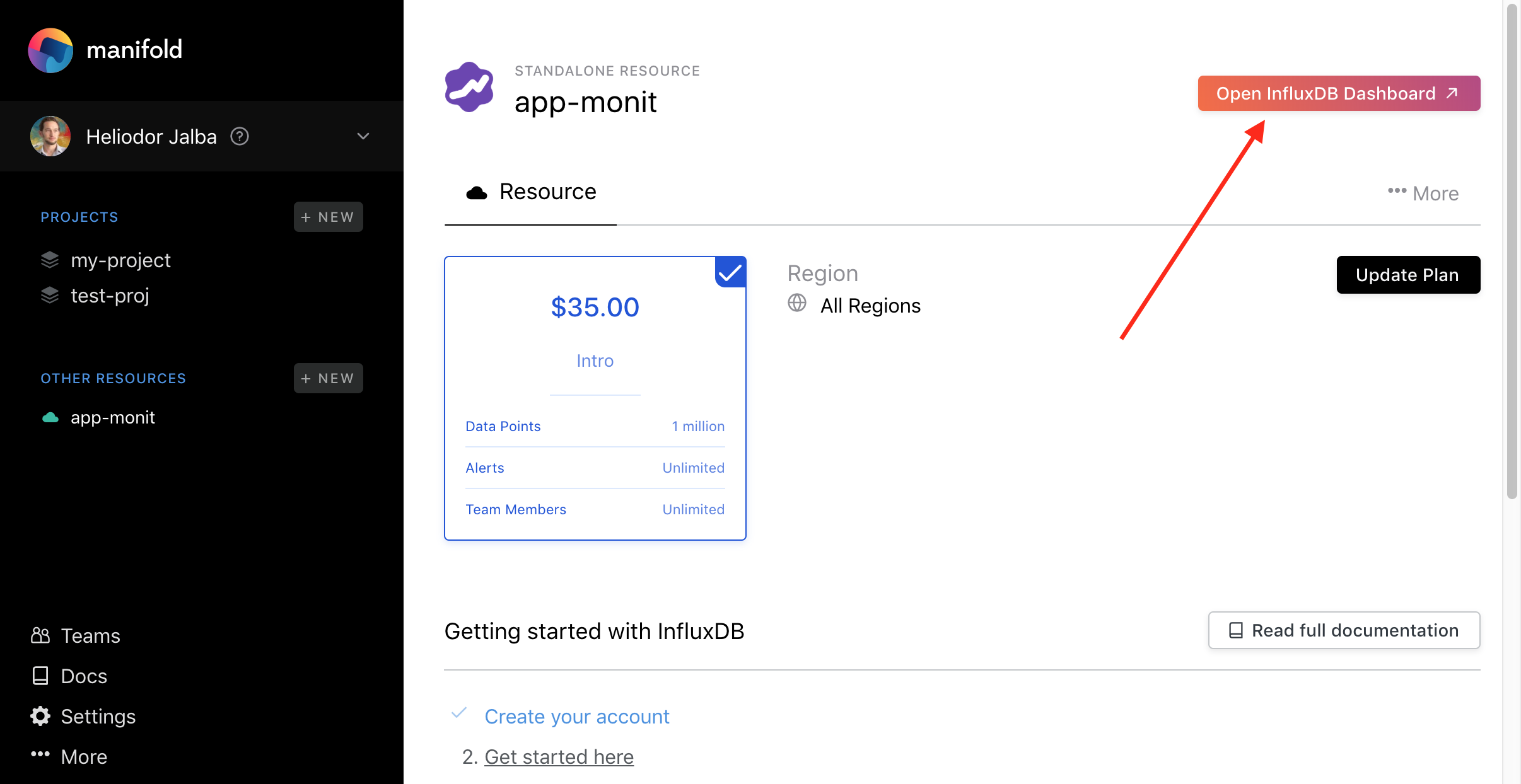 Updating the Plan
If you need to change your plan, start by clicking the "Update plan" button.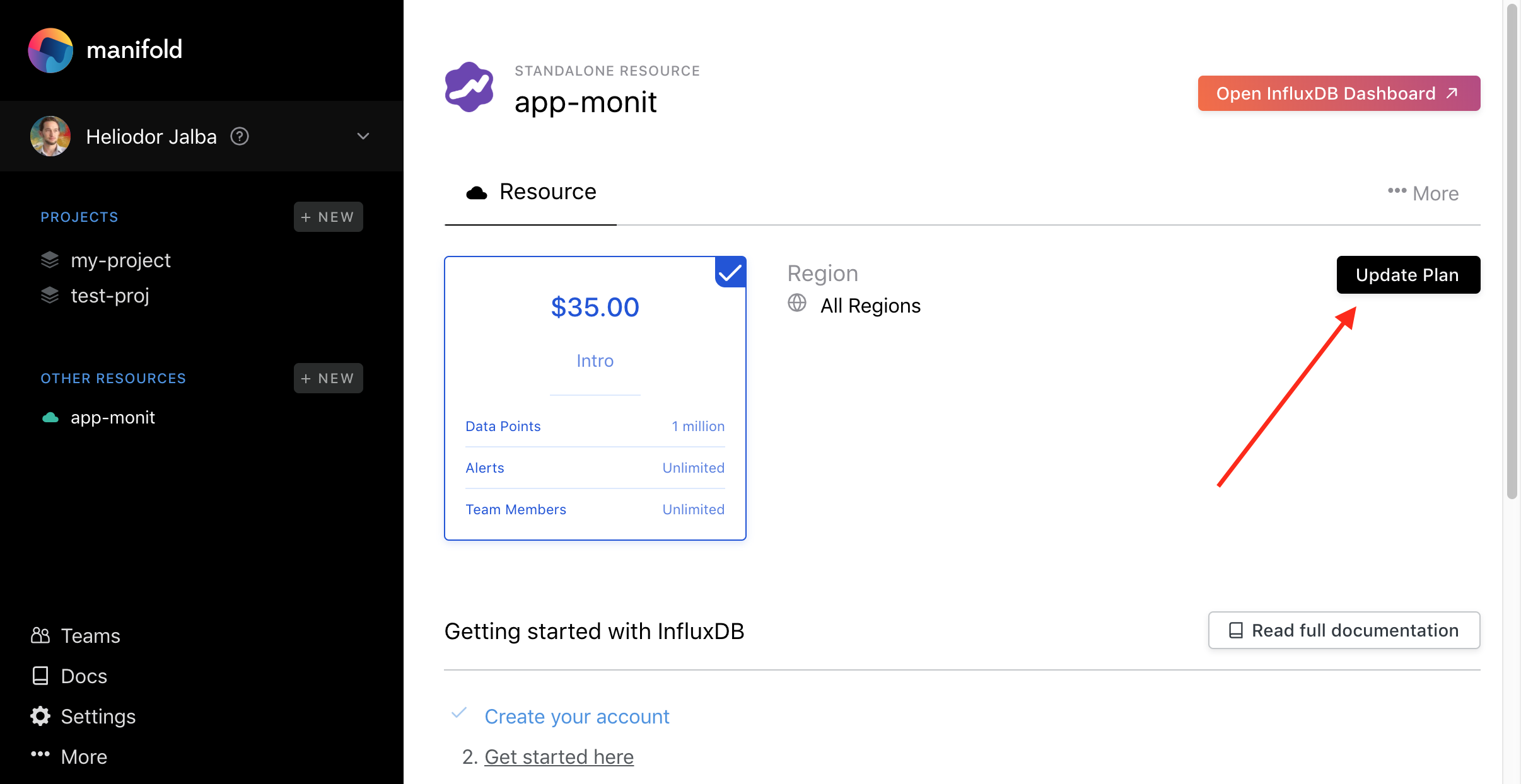 Then, click on a new plan from the list and click the "Save Changes" button.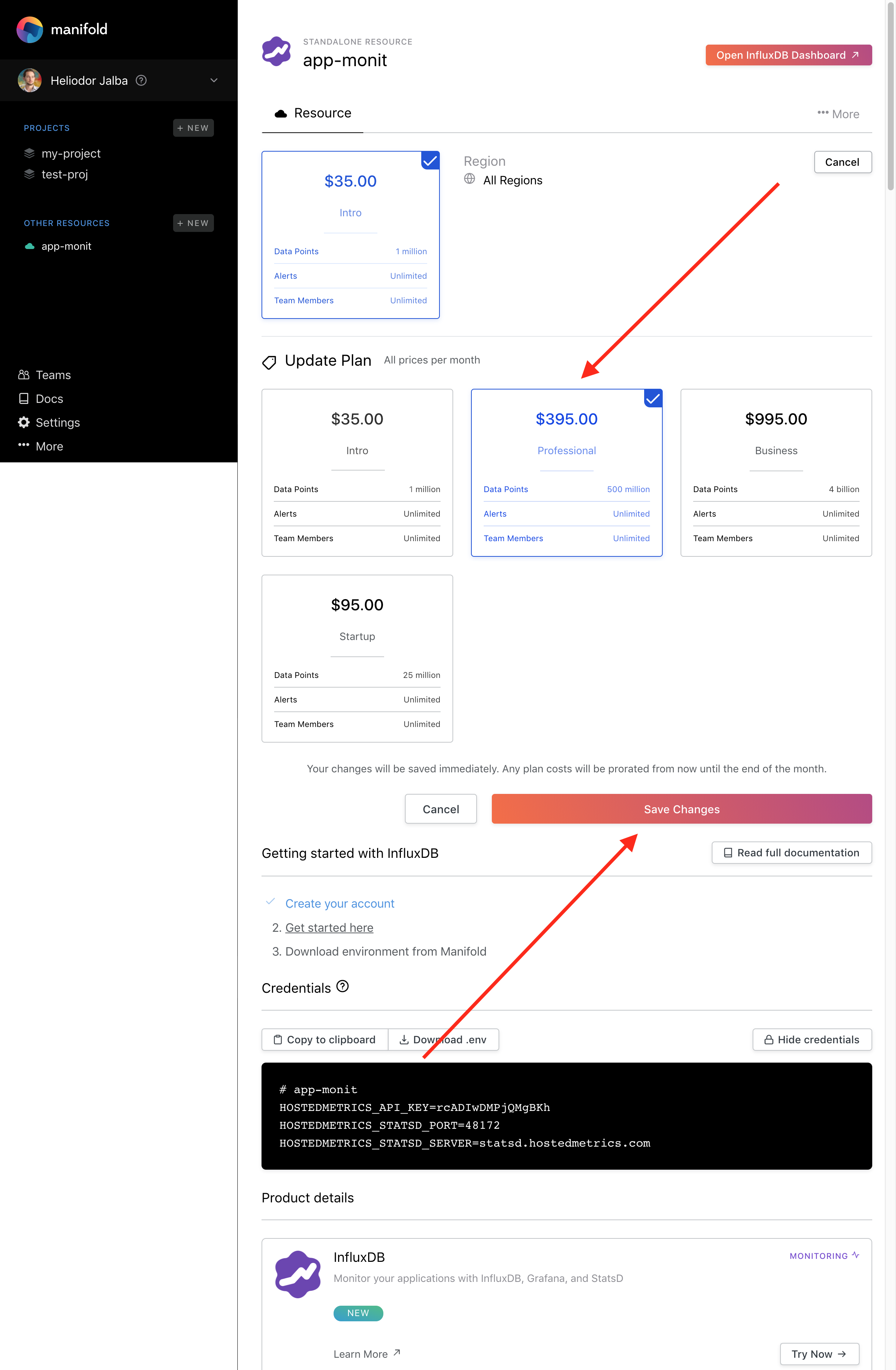 Deleting Your Resource
Danger!
This will delete all associated data, and cannot be undone!
To delete your resource, start on the resource details page, and click the "... More" button in the top-right corner. On the menu that appears, click "Delete resource".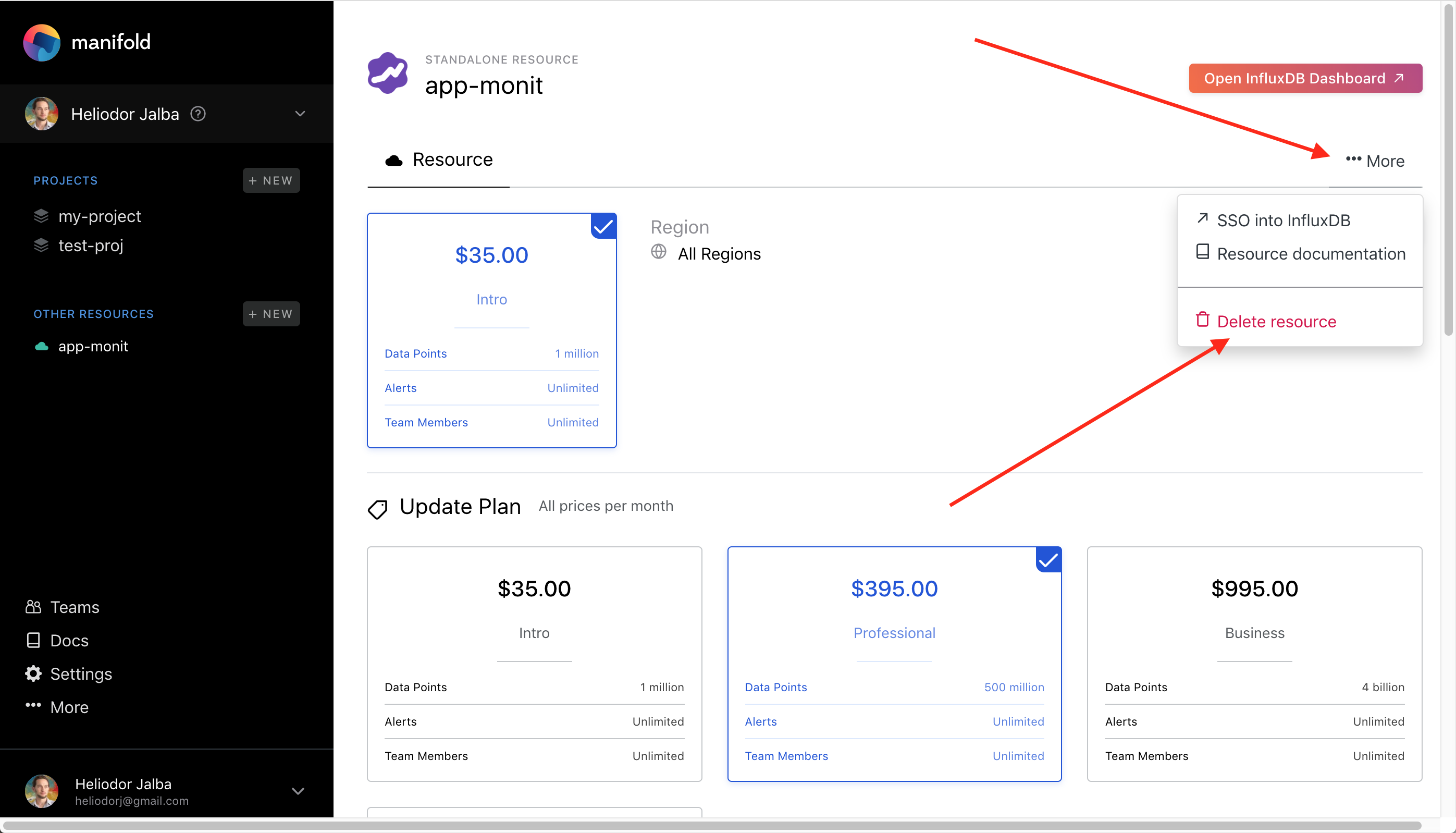 A popup will appear asking you to confirm your action. Click the "Delete" button if you truly intend to delete your resource.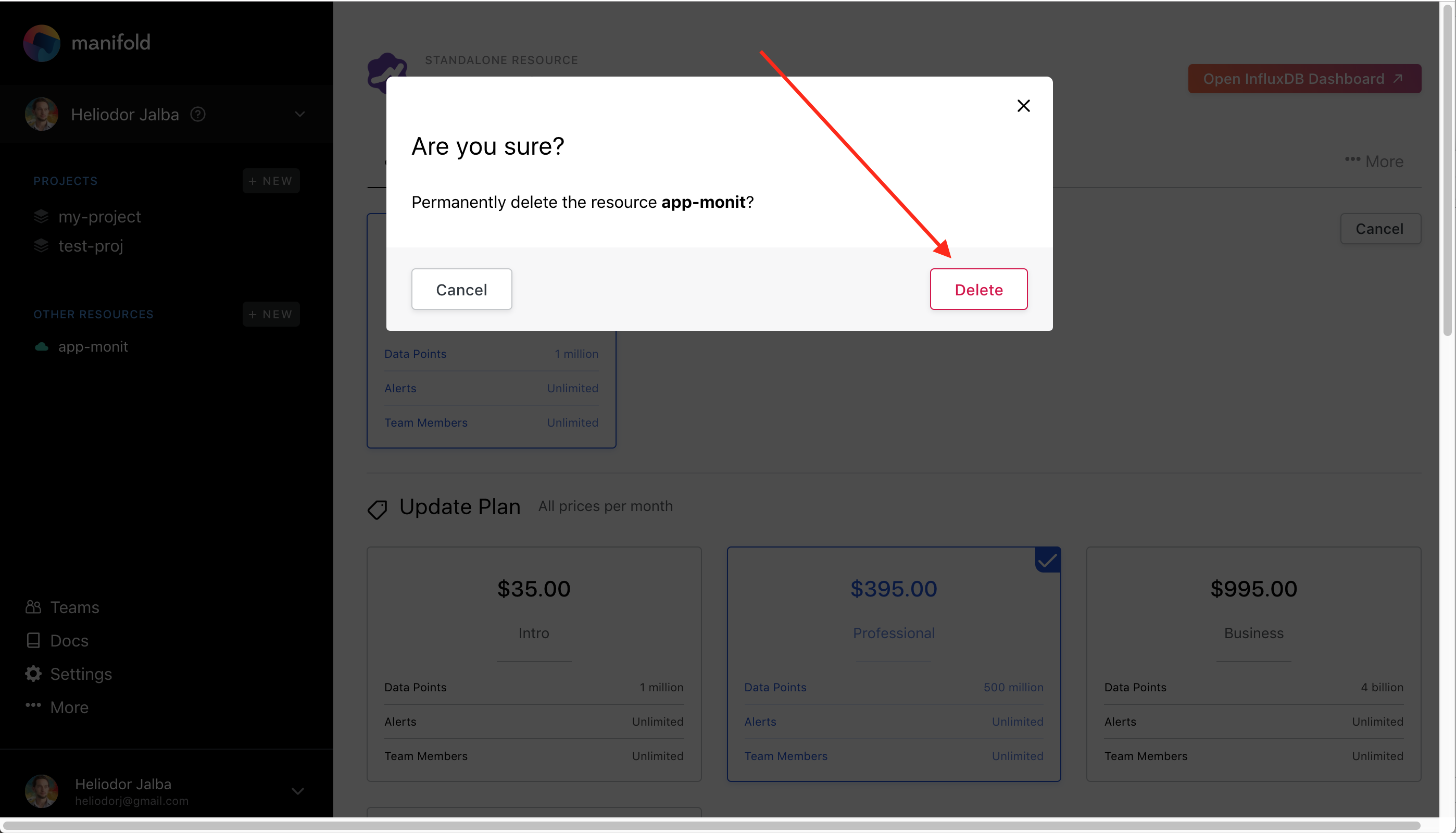 You will see a brief progress message as Manifold and HostedMetrics work to delete your resource.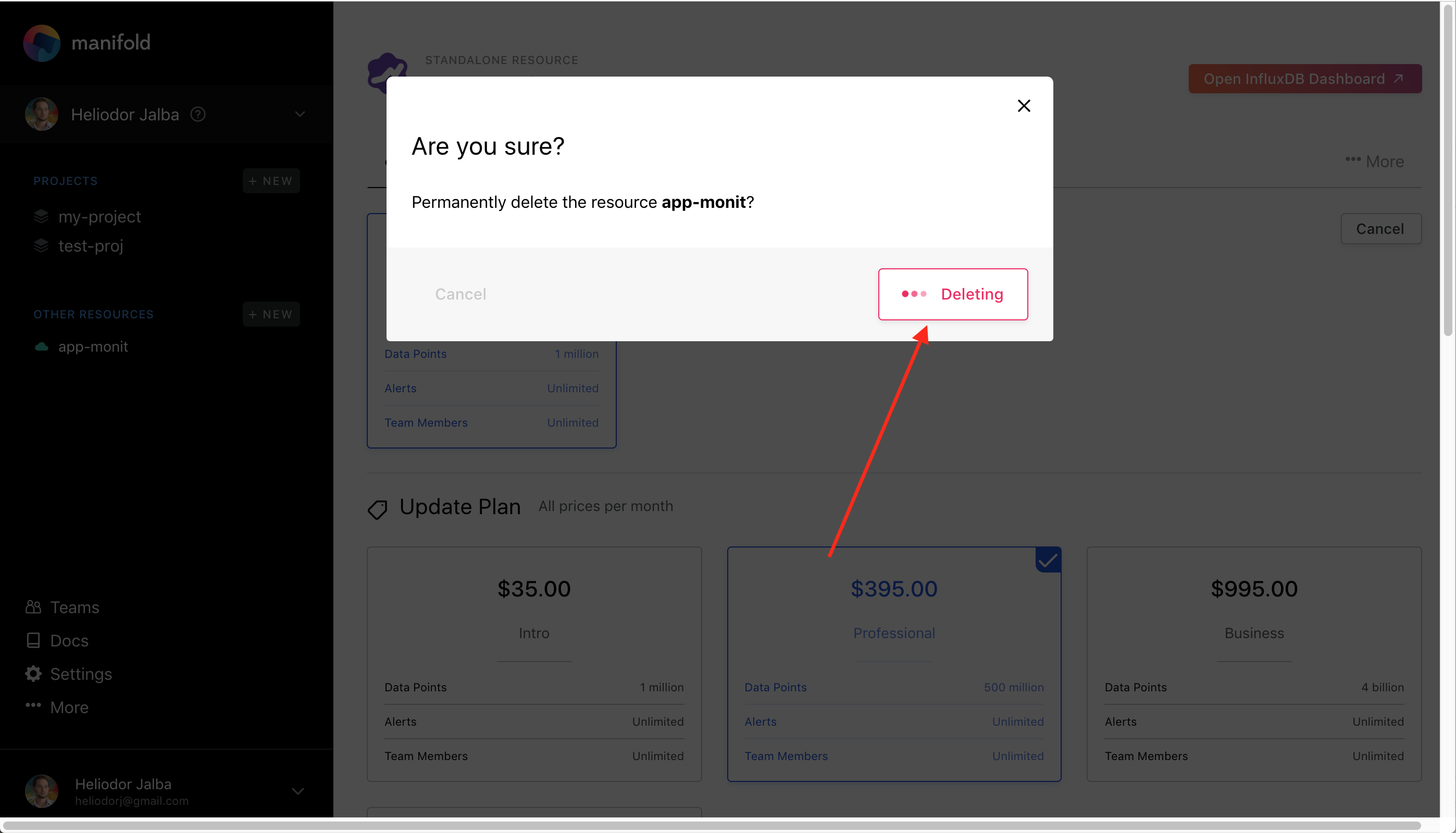 Next Steps
Once you have created your InfluxDB resource, you can perform a quick one-minute test to get a feel for how the platform operates. Afterward, the Product Concepts explanation and the rest of the documentation will provide a thorough understanding of how the monitoring platform works.